WANT TO SAVE THOUSANDS IN REPAIRING YOUR CAR DENT?
The Never Scratch™️ Dent Remover is made of Aircraft grade Aluminium Alloy and Stainless Steel. Its patented high bearing design can repair the most stubborn of panel dents in minutes.
There is absolutely no experience required to use the Never Scratch Universal Dent Repair kit, its easy 3-step REKOIL™️ process means that anyone can successfully repair a dent in a few short minutes, even car body repair shops are on edge about it.
No matter how deep, shallow, wide or small, the Never Scratch Universal Dent repair kit will make your car look new again.
I dont want to risk scratching the paint or making the dent worse
The Never Scratch™️ Dent repair kit uses patented REKOIL™️ technology virtually makes it impossible to scratch the paint or make the dent worse. Try it for yourself by applying the contact resin to the section cup and watch the dent spring back to normal.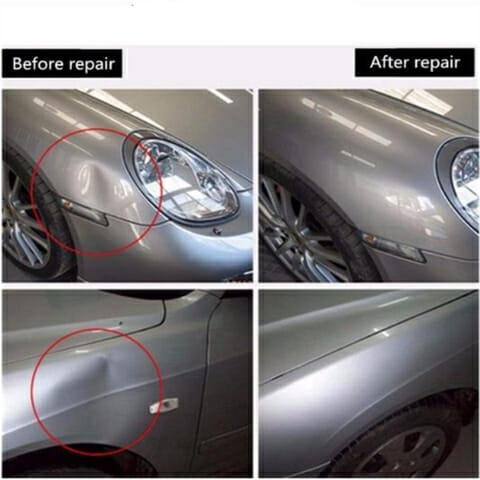 Most Economical & Eco-Friendly Quick Fixing Car Dents
Polygon Handle Design for Better Repairing
Heavy-Duty & High Bearing Ability Guaranteed
Contains Rubber tabs of different sizes to cater for different Dent Sizes
Perfect for Almost Every Car Surface
Can Repair Refrigerator, Washing Machine, Motorcycle Dent too
Package Included:
4x Screw Tabs-
1x Tap Down Pen
1x Bridge Puller