If there is one thing that makes any car owner mad with frustration, it's having a dent on the side of the car door. If you are having the same frustration right now then you're not alone, many dents are caused by accidental Smashes and crashes.
How can dents be made in a car door?
Maybe you had a car passenger who slammed your car door into those pesky parking pollards or, even worse, another person's car door. And maybe it wasn't intentional, but yet you swallow your emotions to save face for your passenger. But deep down you fume with anger, and it doesn't stop there, the inconvenience continues when you are in need to find an inexpensive quote from body shops to fix the large dent on your door.
The worst thing about it doesn't stop there, Now you have to go out of pocket. The worst thing about all is that you have to pay expensive auto collision body shop bills out of your own pocket or, you have to go through your insurance company, which causes your insurance rate to get higher premiums for the following years.
Now you could use this DIY dent repairing from home to remove those large car door dents with no experience.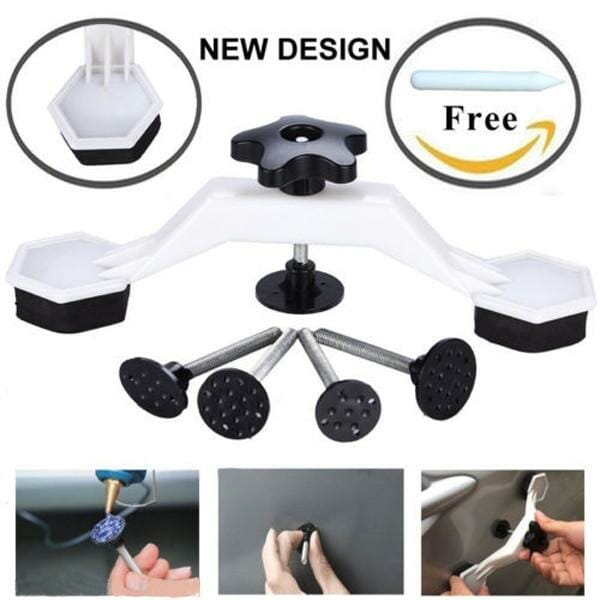 Never Scratch Universal Dent Repair Kit
WANT TO SAVE THOUSANDS IN REPAIRING YOUR CAR DENT?
The Never Scratch™️ Dent Remover is made of Aircraft grade Aluminium Alloy and Stainless Steel. Its patented high bearing design can repair the most stubborn of panel dents in minutes.
There is absolutely no experience required to use the Never Scratch Universal Dent Repair …
Don't fret, In most cases, many large car dents are easier to fix than small dings and dimples. Some dents are caused by a small amount of pressure applied to the panel, especially with people leaning on cars is a common issue with large dents. The principle of removing dents from cars all comes down to a science-related to the flux of temperature of the metal. Hot vs, cold which makes
the panels on your car expand and contract.
With these few helpful home methods that have been used for years. So these before you take it into the auto shop for professional dent removal services and, spending your hard-earned money.
2 DIY Ways To Remove Large dents from your car door
Inspirational fact: If you do any of these methods to a large dent on your car door then its going to be easier than removing smaller sized dents.
The most common dent is a crease that occurs in the middle of the car door. This method we are going to help you easily flip out the dent in a few minutes without much risk of making the dent worse and in rare cases this method may not work perfectly, so be prepared to take it to the body shop if you want to perfectly iron out all of the kinks.
Looking for a great dent removal kit?
We recommend you have a go with the awesome Manelord Car Dent Puller kit. It comes with everything you need to get the job done yourself:
1. Use a Toilet Plunger to remove dents from a car door
The first step is to find a reliable toilet plunger that has reliable grip and suction when its being applied to the car door. Don't always settle for the old worn out plunger as this could make your dent worse and, it could even cause some marks if the rubber is old. So do yourself a favor and buy yourself a brand new plunger and save your self even more frustration.
Nirox Set of 2 Sink Plungers - Drain...
STRONG SUCTION POWER – Removes blockages and dirt with strong...
PREVENTS ODOURS – For easy removal of blockages and odours in...
VERSATILE USE – Plunger in small and large versions (16" &...
Background on what we are doing: We are going to take the plunge and apply the suction cup in the middle of the creased section, then you'll firmly pull the plunger out then it should snap the dented panel back to normal.
Pro tip: it may take a few tries to get the panel in its near-perfect position so when you reattach the plunger to the center of the crease it is paramount not to apply too much pressure as it may flip the metal back into a dent. So use soap and water and apply plunger to the outer side of the creased area and with the lubrication of the soap, you'll be able to strategically place the plunger from the ideal pulling point to assure the best result.
2. Use a Rubber Mallet to remove dents from a car door
If you are an advanced car tinkerer then you may just feel more comfortable about taking the entire door off to use a rubber mallet and paintless repair the dent from the inside of the panel. It's important to note that to never use a metal hammer if you a new to this as you could create smaller unsightly dents marks thanks to a metal hammer. The rubber mallet will help softens the force of each hit to get a flawless dent repair job from your home.
This sort of thing would be ideal, but any (non metal) mallet will do
GS Hand Tools 10pcs Paintless Dent...
Easy To Operate, A Good Dent Repair Starter Kit For Small And...
POM(Polyformaldehyde) Head To Prevent Scratching Of Painted...
9pcs Different Shapes Head Tips Suitable For Different Dents.
What does the size of the rubber mallet need to be?
Good question, there are many different sizes of rubber mallets for different sized dents, so it's highly recommended to use a large mallet with large dents and a small mallet with smaller dents and unwanted creases.
How to beat the large dent out of your vehicle's door
So you have the right mallet in hand and now you are going to go ham on the car door to hopefully knock this dent out once and for all. Well, before you begin beating your door like a drum, ts important to first take the right approach.
First fight the 'dent pop point', if you gently apply force using your hand from the inside of the panel you may hear the metal make a buckle or pop sound we like to call it. This should give you a good gauge as to how much force you need to hit it with. And its all about feel.
Be sure to Hit the dent right in the center crease
It should take no more than 1 to 3 solid hits to get the dent to pop out. That said, this content is for entertainment purposes only, all this advice is not perfect and by following these directions you are acknowledging that you are doing it at your own risk.
If you are not comfortable about performing these DIY dent repair tricks on your own car, or it risks voiding your car warranty then don't do it. Its always wiser to seek the professional advice of a collision body repair shop where they have the experience to help you get the best result possible.
Be sure to shop around for quotes if you are on a tight budget, but I must caution to always read the only reviews on google business and Yelp to help you avoid the many bad body shops out there, who are mechanics, posing as panel beaters. Be sure to talk to a professional panel beater that can give you the right service you need without having more problems.
Reasons why you should avoid DIY repairs and see a car body repair shop
If you are afraid of working on your car and you don't have anyone that can help you.
If the dent has been more than a few months, which can be a result of hot and cold temperatures that can cause more cosmetic issues to the dent and the paint.
If you are having trouble doing any of the following methods above then stop what you are doing before you risk more damage and take it to a pro.
How much will it cost to remove a large door dent
Depending on the skills and reputation of the car shop in question the price can vary from $50 to $150 or more depending on the damage. Additional services like fixing chipped paint can triple the price because it can take much longer to fix. Using one of the popular dent repair kits are another great way to save on money on professional repairs.
BONUS
This super cheap dent puller tool can save you hundreds on dent repair and makes DIY repair easy and painless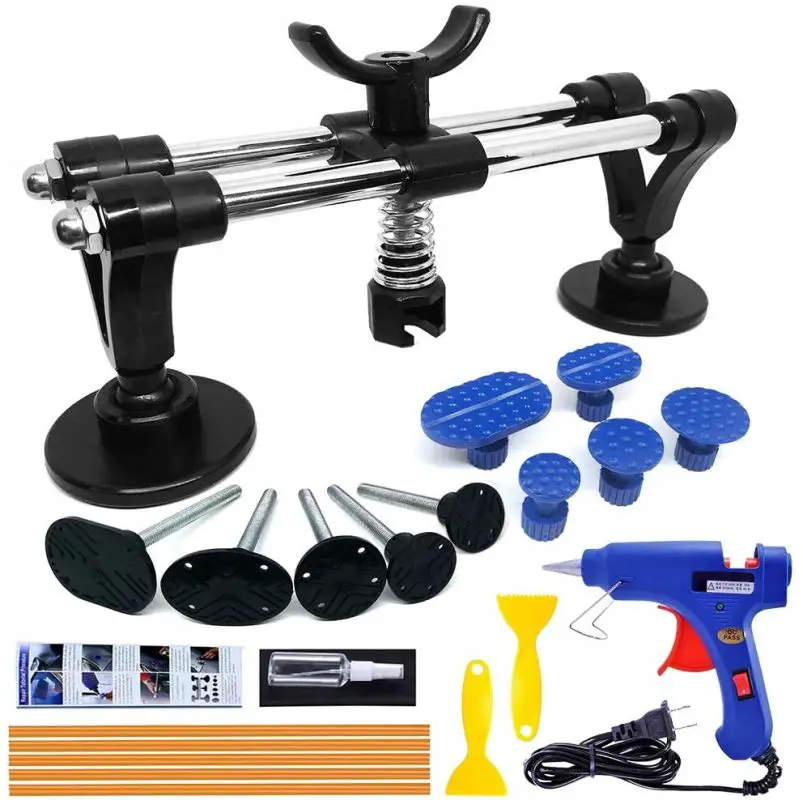 If you don't mind getting this smart tool into your possession then you will have no problem helping friends and family pull the dent out of their car's like a seasoned professional.
You'll save your family hundreds of dollars on repairs and, is so ergonomic and lightweight, you can leave the kit in your car. Known as the Never Scratch dent puller, it will make many of your dent problems a piece of cake to fix.
Its dent reversing abilities can be used on your car rooftop, hood, truck, car doors, and even your bumper bar.
Last update on 2023-09-08 / Affiliate links / Images from Amazon Product Advertising API