Have you ever wondered what the cost was to repair a paint scratch on your car is? If you like to see your car in top condition, but you have found deep scratches on the bumper or panels, then you are not alone in looking for options to remove those nasty scratches from your car.
You will discover that it can range from $150 – $5000 in repairs depending on your car, color, and damage and many-body detailing shops range in price depending on where you live.
But, of course (and as with most things automotive) there is a huge variation in these costs, but there's a lot you can do to reduce the amount you're going to pay, without compromising on quality.
The real cost of repairing car scratches?
It's little-known by many that an and unsightly scratch can cause a higher amount of damage from corrosion to rust.
Hey – before we get too far in, did you know that we sell our own Scratch Remover kits? We'd appreciate it if you at least take a quick look and check them out: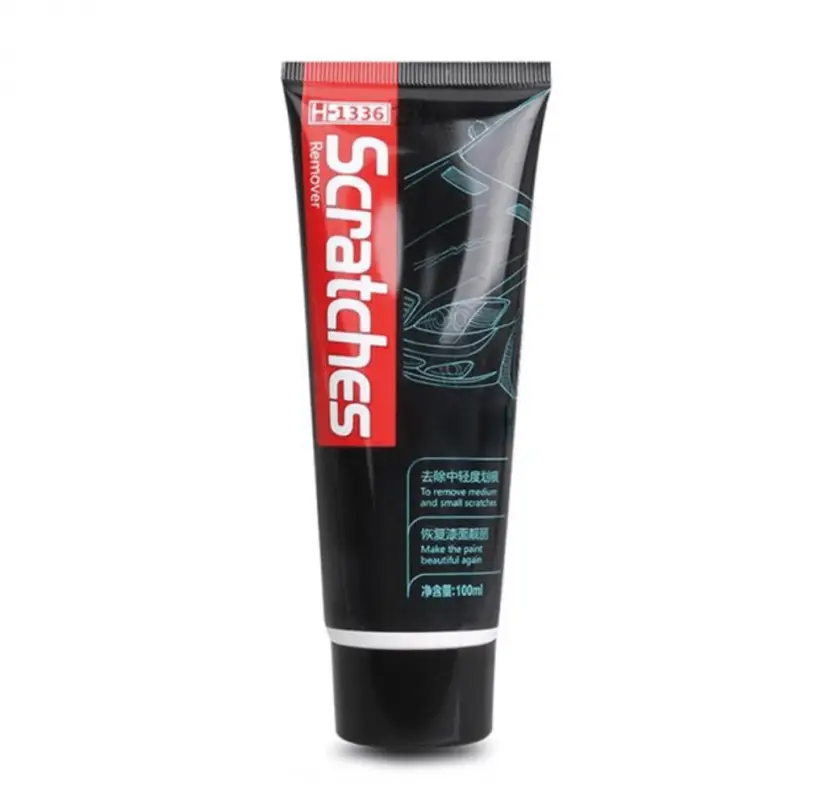 Never Scratch Car Scratch Repair Compound
Remove scratches in minutes in the comfort of your own driveway or garage. Simply apply the solution to a clean cloth, give a few generous wipes on the scratched surface to find those imperfections have disappeared. Simple, but very powerful.

It can be the small scratch in your rear quarter panel that can cause thousands of dollars in damage. So what's the best way to have a repaired without spending thousands of dollars I'm getting a repaired?
Removes Scratches On Multiple Surfaces
Best Value
Removes Scratches On Multiple Surfaces
Removes Scratches On Multiple Surfaces
Removes Scratches On Multiple Surfaces
The good news is that there few scratch repair kits that you can purchase, and will enable you to repair small and large scratches from home.
For the cost of $32, you can be on your way to saving your car from rust and corrosion as well as saving your yourself thousands from the inevitable on repairs.
To get to the crux of the argument, there are many solutions available to repair your car at a reasonable price. The question is how much are you prepared to spend on scratch pairs?
Professional scratch removal is expenses and it should be expected that you're going to pay from $500-$5000 in scratch removal services. And it can take weeks for your car to be off the road until you get back.
Is Do-it-yourself scratch removal safe?
If you have scratches on the bumper and quarter panels then you will save to use products like Never Scratch scratch removal for easy repair.
If you want to repair a luxury car like a Ferrari or Bentley, then it may be recommended to see a professional.
In addition, it is important to make sure that your expectations of DIY scratch removal kits are in check. See, scratch removal kits merely cover up the damaged area away from prying eyes. Even though it will like your car scratches disappeared, but it's important to note that this a cheap fix, and sometimes it doesn't always cover the whole scratch.
Frequently asked questions
Here are some of the most frequently asked questions before seeking professional scratch repair services that will save you money time and frustration. Bear in mind that many DIY scratch fixes are not the final solution for all situations. So in the case of a seriously deep scratch from a collision where panels are dented and fractured then these DIY scratch repair methods don't work, which then begs the question if the car is a right-off or if it's fixable to your budget from a professional panel shop.
Are scratches covered by car insurance?
If you are covered by comprehensive car insurance then you may have a chance of getting your scratch repair covered.
But there is no guarantee and it depends on what the Insurance company requires you to do to prove it. Get more information about car scratches being covered by insurance here.
How much does it cost to fix bumper scratches?
It's always unfortunate getting into accidents because most of the time it's not our fault. Bumper scratches, chipped paint are the most common problems when a car accident occurs and they can also be the most expensive. Depending on how severe the scratches and scuff marks are, professional repair costs range from 150 to $600 per panel, depending on if the panel is fixable or not. This will heavily depend on the integrity of the body shop repairman which many have reported to be ripped off on unfixable jobs. Remember always try to find a reliable and trustworthy car body shop that has a good reputation with their customers, but reframe from strictly use online reviews as the only resource to tell if a repair shop is good or not. Many businesses are now known to purchase fake yelp and google reviews in order to trick people into doing business with them.[sc name="scratch"]
Top 3 tips to find a reliable car body shop to fix your car
Ask around – ask friends and family if they know someone doing good work and have a reputation for good business. Don't always go with the first choice, always ask for second opinions and then look at some of the online yelps and google business reviews to compare and make a shortlist of those businesses.
Talk to a shortlist of professional body shops. – Once you have done your own research the next thing is to call around on your list of potential businesses to work with to get a quote and compare your quotes and interactions before making a decision. Its amazing how much insight you can glean from just chatting with people based on how they talk and if they make any over-the-top promises. Try to set reasonable time expectations before making the commitment.
Go with your gut – Ultimately you will have to make your own assessment of the serviced provider before going forward. If you know someone you can trust with cars and they are knowledgeable in what they do, then you may find yourself in a good set of hands. But be sure to go with your gut instinct and if something seems off, ask questions and see how they handle it.
If you have a small scratch repair job that can be solved then here are some products available to help you remove scratches off your bumper, but they don't work with cracks or holes. If you're interested in DIY scratch removal on your bumper click here
How much does a paint touchup cost?
If you're not confident in fixing your going scratches then you can call body shop repair businesses to help you.
The Fix can usually take only a few hours and may only cost you $150-$250. But be in mind that it will never be the same as the original and you can only save a little money I doing it yourself.
Click here to discover how easy it is to remove scratches off your car.
Can I repair my own car paint after an accident?
If it's just a few car scratches on the body, then you may be able to get away with it. However, if there is noticeable panel damage, paint chips, holes in the bumper bar or panels. And you may need to see a professional body shop to get your car back into shape. With that said, depending on the accident most cars become write-offs and I'm not safe to drive on the roads.
How much does a key scratch repair cost?
You can pay $150-$300 per panel. The price also ranges on how deep the scratch is and if it is has penetrated the primer. Usually, you can save yourself the money and time by getting yourself your very own car scratch repair Kit. You're only taking a few minutes for you to rub out the nasty scratches on your quarter panels or bumper bar.
Here's how to fix a deep scratch from home with a few exceptions.
The base coat hasn't been breached
Cracked paint and chips from an accident
Can you fix a keyed paint scratch on a car?
Short answer, yes! There are many products on the market that provide quick and easy fixes without spending money on body detailing. Do yourself a favor and check out Never Scratch car repair the body compound here.
How much does it cost to repair a deep scratch in a car?
Deep scratches are many car owners worst nightmare because they can be very expensive to repair. It depends if the scratch is exposing the primer coat or steel and how many panels are affected. It's safe to say from $500 – $4000 on deep scratch repair costs.
How much does it cost to repair scratches on my car door?
Scratch removal on the car door can cost from $150 to $200 dollars for a professional scratch repair services from an auto body shop. It is important to check it Never Scratch removal repair for any of your car door scratch repair needs.
Last update on 2023-11-12 / Affiliate links / Images from Amazon Product Advertising API